Delivity
A real-time delivery tracking system to keep your customers informed
Why Delivity?
Businesses that want to take control of your own deliveries, Delivity App can help.  Delivity App takes care of organising your delivery drivers, keeping your customers updated automatically of when to expect deliveries, gives you complete visibility of your drivers and fleet's location and allows you to manage your delivery runs and create routes that best suit for each driver.
 Delivity is a simple, intuitive and user-friendly App for effective last-mile delivery and effective with one single monthly fixed cost, Delivity does everything that you need if your business delivers products or services to your customers' doorsteps.
Fixed Low Monthly Cost, 0% Commission
Designed for businesses who wish to use their own delivery drivers and stay on top of their deliveries. The monthly fixed price gives you all the tools to manage your drivers and update customers, just like big delivery companies do, but at a fraction of the cost.
Keep your Customers Informed with Real-time driver's Location
Let the customer know where the driver is and arrival time (taking traffic into account). So, they won't call you asking where their order is. A text message sent to the customer the moment delivery driver sets off, giving the customer not only the estimated time of arrival (ETA) but also a link to see the driver's real-time location. Should there be any traffic and other delays or even in cases where the driver can't find the exact address, the customer can view the exact location of the driver and direct them.
Reduce Missed Deliveries
The missed delivery costs are huge for your business and frustrating for your customers especially if you're delivering large items like furniture, building material etc. With Delivity, the customers are informed of the delivery driver's ETA and also real-time location, so the customer knows exactly when to be in to receive and sign for the deliveries.
Contactless Deliveries
Drivers can deliver and capture proof of delivery without needing the customer to sign. A photograph can be taken and attached to the delivery as proof of delivery for large delivery items. For smaller items, the driver can leave the parcel in out of sight location and update the customer with a photograph where the parcel has been left.
Built-in Route Optimisation
Auto-create the best delivery sequence, taking traffic information into account. The driver can still manually adjust it before getting the whole delivery route. Delivity App uses Google's route optimisation feature to predict the best possible route. The suggestion can be modified as per the business need if required too. Giving you and your drivers best of both worlds when it comes to optimisation and also specific delivery needs.
Image Recognition from Delivery Notes
Still using paper delivery notes such as food delivery notes? Delivity App allows you to scan Paper Delivery Notes which then recognises the customer name, contact number, address and adds within the delivery run without having to add the address and customer details manually. Making the delivery planning process much faster for fast moving environments like Food Delivery and similar businesses.
Allocate Deliveries Direct from the App
Quickly allocate deliveries to drivers direct from the App, without having to sit in front of a computer or large screen. Making the delivery allocation process faster for busy environments.
Works for Service Business too
Delivity works well for service businesses too such as building contractors, cleaning and maintenance companies. Delivity keeps the customers informed of when the service engineer will be arriving using Text Messaging and real time location of the person arriving. Reducing the chances of missed appointments saving everyone time and frustration.
Better Customer Experience
Customers who are better informed about delivery and service person's arrival are happier and give better reviews.
Collect Customer Feedback
Once the product or service is delivered, businesses can collect customer feedback using our BeHeard App that works well with Delivity. Learn what your customer thinks of your product and service and how it can be improved further. Use the positive reviews in your marketing messages. Spread good reviews. It's a shame when you get a good review, but no one knows of them. For only a small extra cost, we can post onto your social media and review sites.
One Tap Customer Contact
Driver can contact the customer with a single tap should they need to speak to them about delays, any re-schedule or re-arrangement or in case they're need further directions etc.
Business Control Panel
With Advanced Delivity, the business can have access to a central control panel on a larger screen. The Delivity Control Panel gives more detail of the driver's real-time location on a MAP view, delivery status, ability to re-arrange deliveries and much more.
Digital delivery notes with e-signatures
Delivity can be integrated with your existing systems to generate electronic delivery notes and customer signatures can also be collected using e-signatures instead of paper copies. This can then be emailed to the customers as proof of delivery with person who signed for it in a digital format.
Vehicle Fleet & Staff Location Management
With Delivity, you can use the real-time driver location feature as fleet and driver location management tool. Saving your business, the extra cost of installing trackers and having to contact your on-the field staff to enquire about their location.
Integration Options
Delivity can be integrated with any third Party software system using the real-time API's. CRM systems such as Sage, Salesforce, Microsoft Dynamics and many more. Delivity can also be linked with ERP Systems such as SAP, Sage, Maximo and many others. For small and medium size businesses, Delivity can also be integrated within their EPOS and Online Ordering systems.
Data Safety, Privacy and Security
Industry-Standard Data Security; Encrypted and secure communication of data no matter where you access it from. Secure Cloud infrastructure protecting sensitive information and ensuring GDPR-compliance.
Peace-of-mind Data Safety and High Availability; ISO Certified Data Centers with 99.9% up-times with regular data backups and disaster recovery to make sure your operations keep running smoothly around the clock.
Delivity is not just for food businesses!
Office and Buildings
Health & Safety, Cleaning and Compliance
Retail
Hospitality
Airports and Aviation
Education
Choose your preferred payment schedule.
Annually (upfront) or monthly.
Delivity Standard
Route Planning from App

Driver Management

Delivery Notes Scanning

Live Tracking and Text Notifications

Route Optimisation & Prediction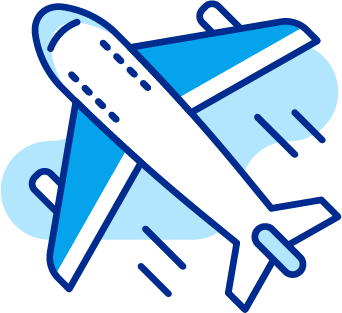 Delivity Advanced
All Delivity Standard Features plus

Delivity Control Panel

Digital Sales Orders & Delivery Notes

Fleet and Staff Location Management

Data Reporting on Deliveries

Integration with CRM, ERP, Web shop & EPOS
Delivity works well with these Apps